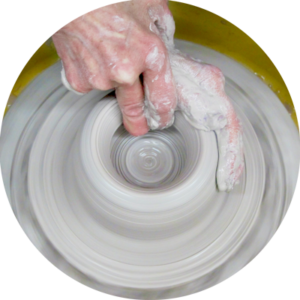 Studio on the Hill is a pottery studio that serves a wide range of people, offering them the opportunity to work with clay and express themselves through their creations in an accepting and non-stressful environment. 
All are welcome and we are happy to work with people with disabilities including those who are visually impaired. 
All students must call the Studio to schedule their class time.
Shaun Kelly, Manager, welcomes and encourages individual interests as he guides students in exploring various hand-building and wheel techniques and decorative finishes.
Adults can create beautiful gifts and one-of-a-kind pieces. Studio on the Hill also collaborates with outreach programs to enrich the lives of individuals at various drop-in centres and institutions.
Schedule of Classes
Adult pottery classes will be offered Monday mornings and Tuesday to Friday afternoons.
For further information or to sign up for a class please contact the Studio at 416-752-2665 or email infostudio@fontbonneministries.ca.