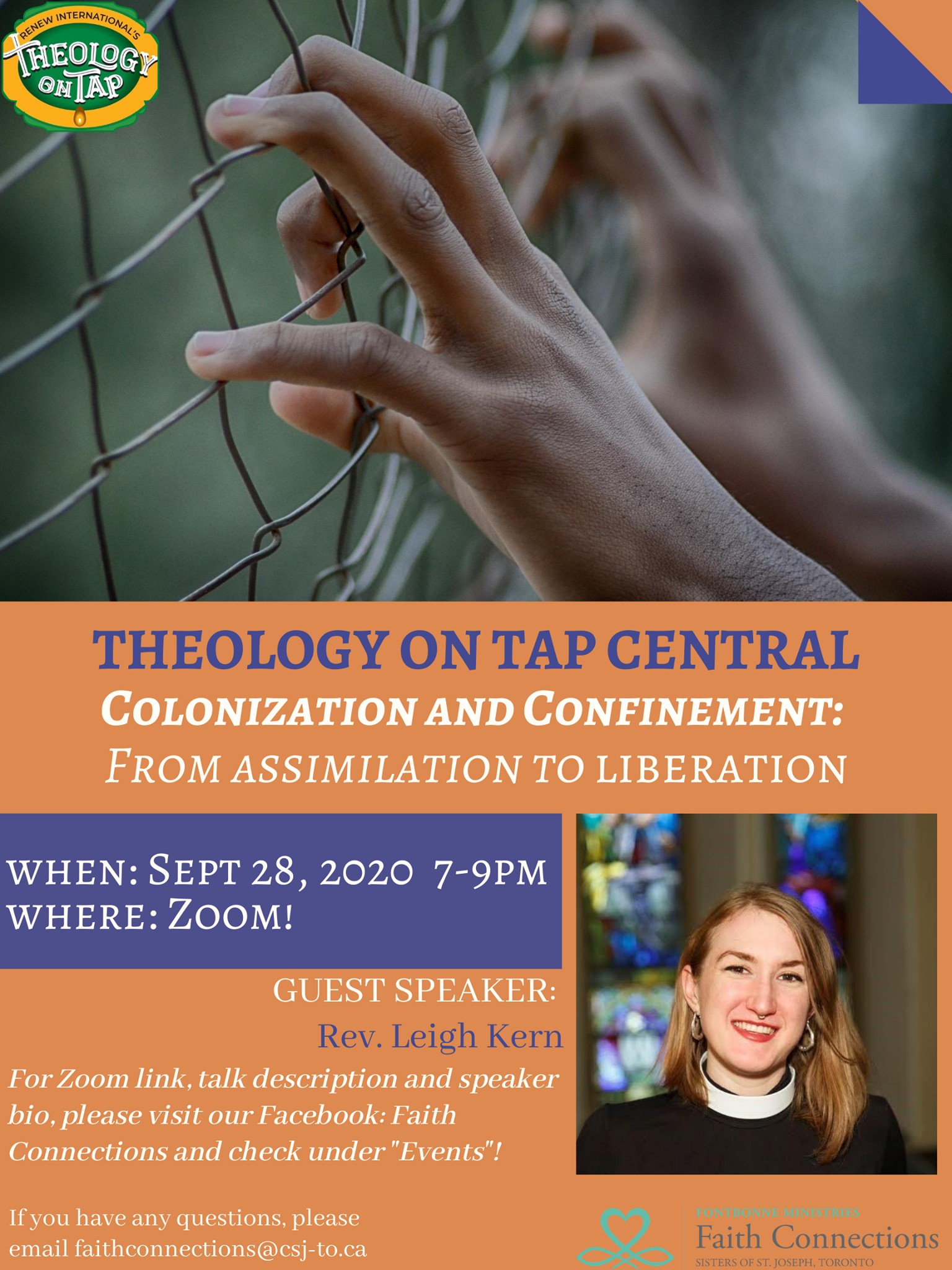 Theology on Tap Central
Title: Colonization and Confinement: from Assimilation to Liberation
Description: The Reverend Leigh Kern, Reconciliation Animator of the Anglican diocese of Toronto, will discuss the theological roots of our current judicial, policing, and prison system and their impact on Indigenous communities.
Speaker: Reverend Leigh Kern, Hon. B.A., M.Div.
Reverend Leigh was born on the territory of the Anishnaabe, affected by the Rideau Purchase (Treaty 27, 1819). Leigh is passionate about creativity, cross cultural and interfaith solidarity, ritual practice, and the healing power of community. She serves on the Vision Keepers Council, which is a council of youth and Elders that advises the Anglican Church of Canada (ACC) on subjects related to justice for Indigenous peoples. She also represents the ACC on the Steering Committee of KAIROS.
She received her undergraduate degree with high distinction from the University of Toronto and completed her Masters of Divinity from Yale Divinity School, where she served as a chaplain to people on the streets of New Haven, CT for two years. After her ordination, she served as Assistant Curate and then Associate Priest for three years at Saint James Cathedral, Toronto.
Leigh delights in bringing together diverse communities to pray, sing, listen, and heal ourselves, the Land, the Waters, and all our Relations. Her work has taken her all over, from Standing Rock to the heart of urban centres, and for these opportunities to serve in solidarity, she is extremely grateful.
Pronouns: She/Her
Register in advance via Zoom link | Join us for a night of learning, fellowship, and sharing!
**As with a physical location, space is limited**
*An event for Young Adults (18-39)*
Facebook Event: https://www.facebook.com/FaithConnections/photos/gm.241203197197676/10157129685740780