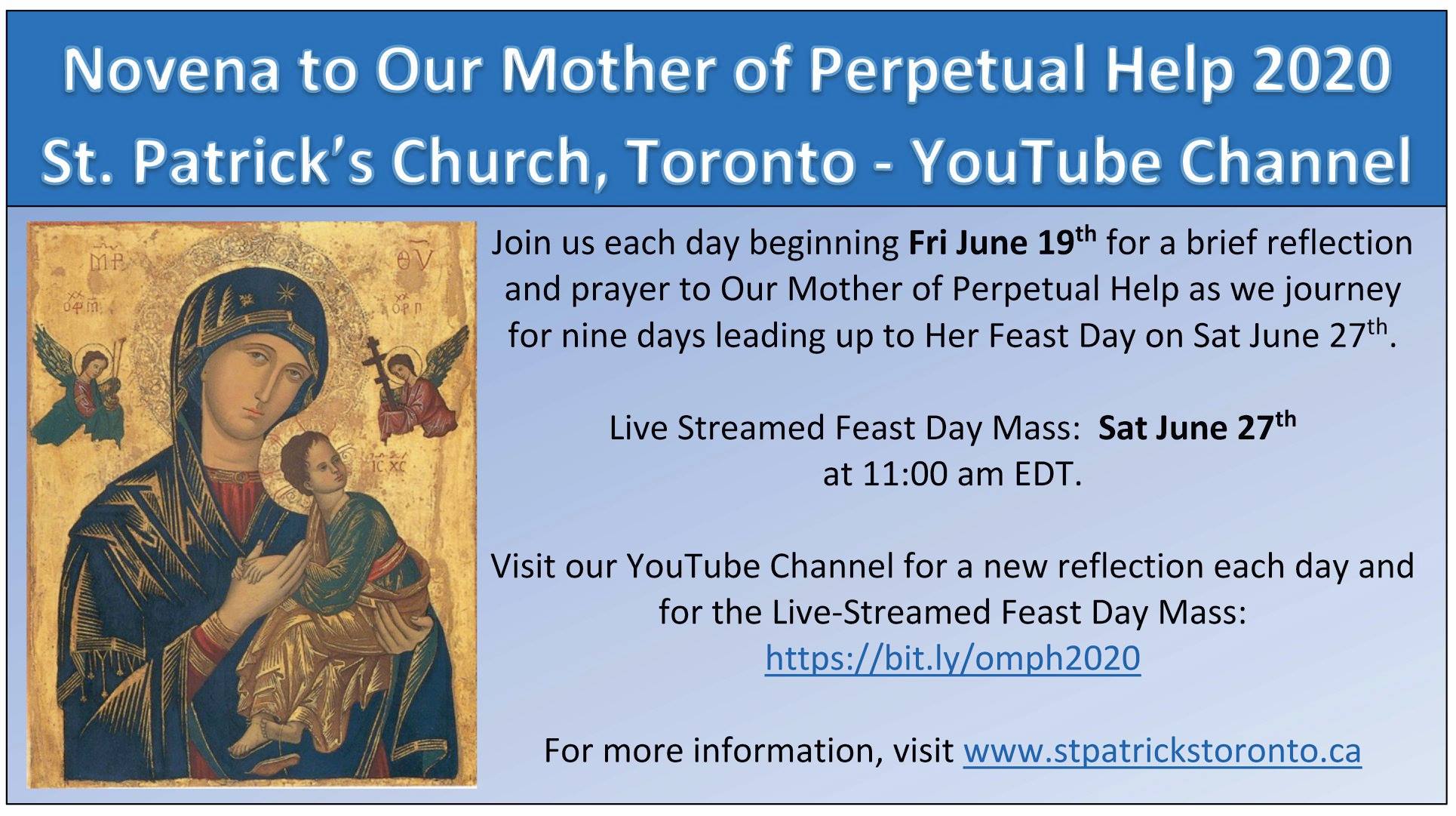 Novena
Saturday, June 27th is the feast of Our Mother of Perpetual Help. At St. Patrick's Shrine Church, it has been a tradition, each year, to mark this special feast with a triduum, a 3-day celebration, where hundreds of people have gathered in our church to honour the Blessed Virgin and celebrate the Eucharist in an exceptionally joy-filled, beautiful and prayerful way.
This year, with all of the uncertainties about when the church would re-open for public worship due to the coronavirus pandemic, it has not been possible for us to plan to have such a celebration and time of fellowship. And now that the churches have begun to re-open, there are many limitations placed upon us, and directives that we must follow out of love for one another to keep us safe, as we gather to worship once again.
This year, in anticipation of the feast, I invite you to pray a novena – nine consecutive days of prayer and devotion inviting our Blessed Lady into our lives, to share with her our needs and worries. To aid in this, I have prepared a Novena to Our Mother of Perpetual Help in the form of nine short devotional videos that will be available on our parish YouTube Channel, beginning with Day One, Friday, June 19th. Each day, a new video, approximately 6-7 minutes in length, will be available. The videos are meditations on the beautiful icon of Our Mother of Perpetual Help. A new link to each video will be posted daily right here on our parish website under the section "Parish Events".
In addition, on Saturday, June 27th, at 11:00 am, there will be a mass at St. Patrick's to mark the feast. As the seating capacity in the church is greatly reduced during this time, the mass will also be live-streamed on the same YouTube Channel with a link from the website.
During this time, let us continue to invoke Our Lady's help and protection. May she watch over us, our loved ones, those who serve us, and all those who are suffering in any way.