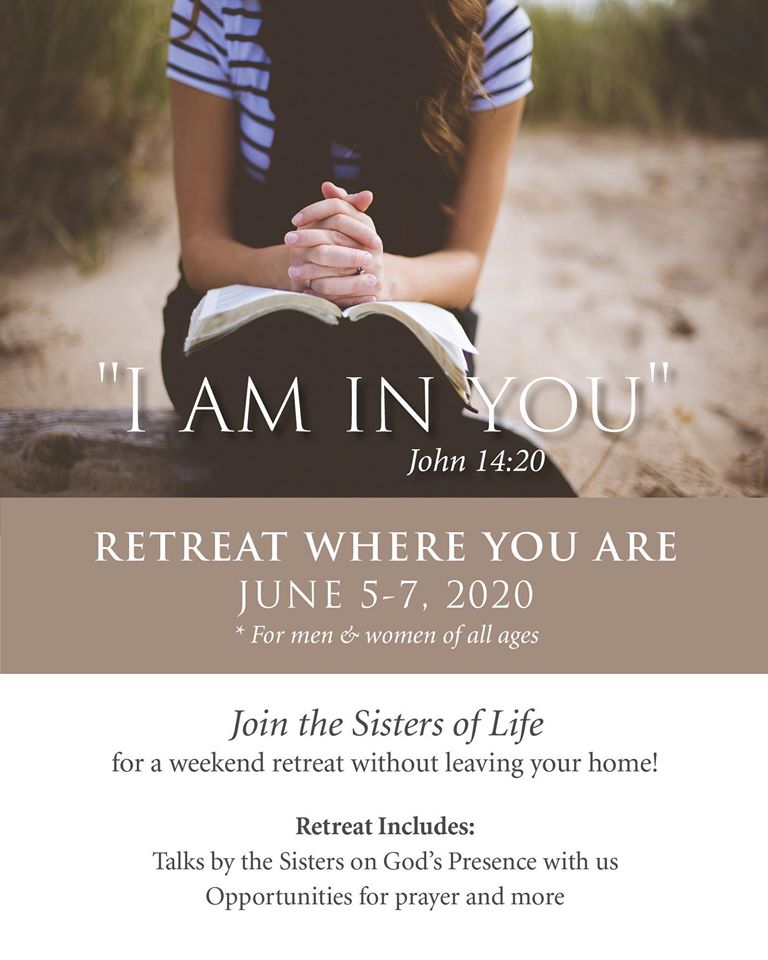 I Am In You: Retreat Where you are
RETREAT WITH THE SISTERS OF LIFE
OPEN TO MEN & WOMEN OF ALL AGES
FREE // REGISTRATION REQUIRED
Register here: https://sistersoflife.org/events/i-am-in-you-retreat-where-you-are/
Join the Sisters of Life for a weekend retreat without leaving your home! The retreat will be live-streamed on YouTube on June 5-7, 2020. If you are unable to join us live, the videos will be available throughout the weekend.
You will be guided through the weekend with talks by the Sisters of Life on God's Presence with us, opportunities for prayer, and more!
We look forward to being together again, but until then, we hope you can be with us & many others for a retreat where you are!
FRIDAY
6:30pm – 8pm: Talk 1 and Night Prayer
SATURDAY
9am-10am: Talk 2 & Morning Prayer
12pm-1pm: Rosary & Midday Prayer
2pm-4pm: Talk 3 & Guided Prayer with Scripture
6:30-8:30pm: Talk 4 & The Source
SUNDAY
9:30am-11am: Talk 5 & Closing Prayer