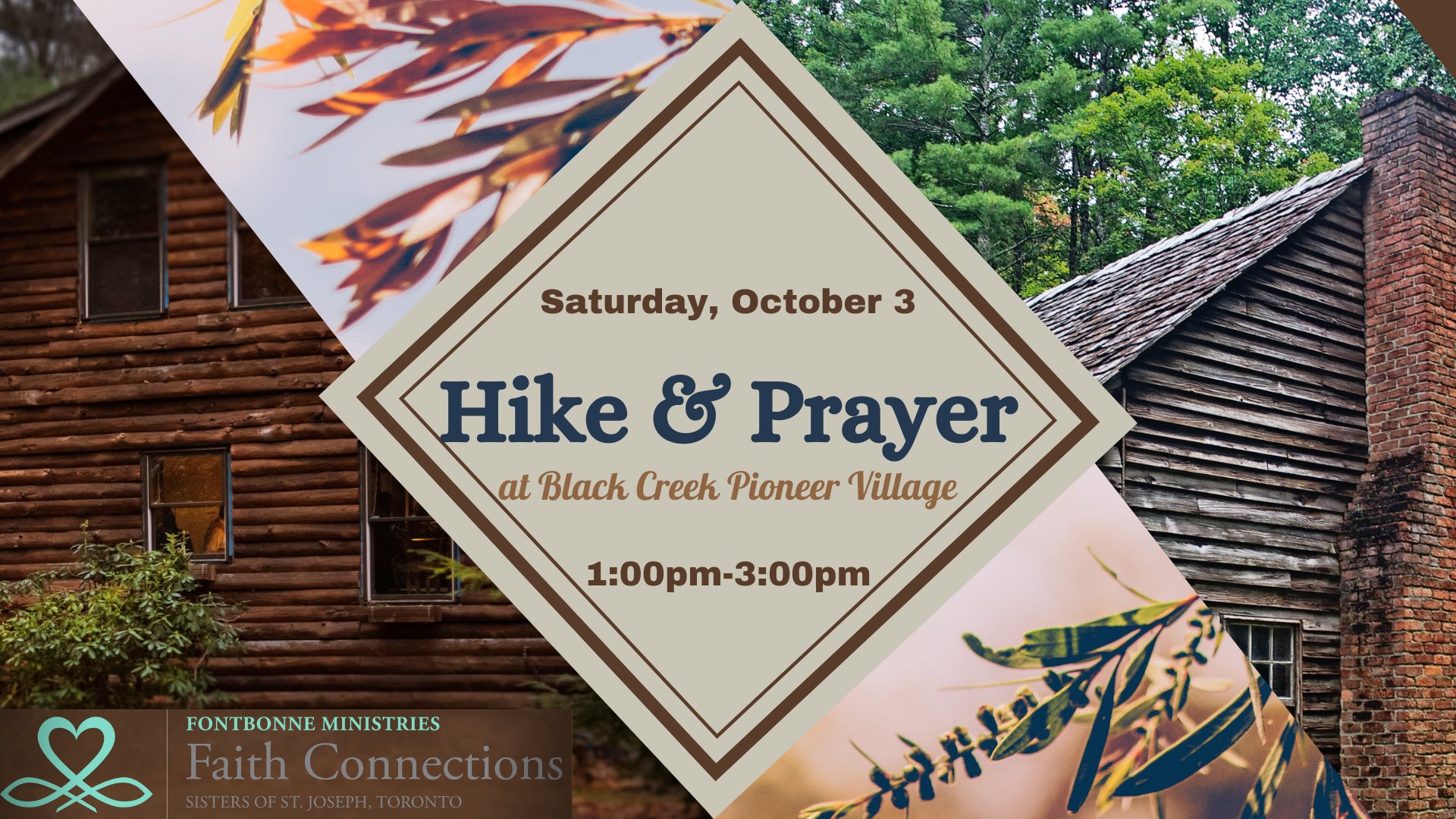 Hike and Prayer
Welcome to our first Hike & Prayer of 2020!
TO REGISTER:  www.eventbrite.ca/e/121750008553
Join us Saturday, October 3 for an afternoon of prayer, fellowship and reflection, while enjoying the beauty of God's creation through the lives of those that came before us. We're immersing ourselves in the world of Ontario's Early European Settlers, ahead of the Feast of Saint Francis of Assisi, to explore what local history can teach us about the future.
This event is pay-what-you-can to cover admission costs for Black Creek Pioneer Village. Suggested rate ranges from $5.00-$15.00 per person. NB:
Tickets purchased directly from Black Creek Pioneer Village are invalid for this event. If cost is a concern please don't hesitate to email faithconnections@csj-to.ca for more information.
– This event is for Young Adults (18-39) –
-Parents/Guardians with Children under 4 years of age who are interested in participating, please email faithconnections@csj-to.ca for more information –
Important Notes:
*Masks and physical distancing a must – We will be complying with Black Creek Pioneer Village's Visitor Protocols .
*Spaces limited, RSVP required – To ensure physical distancing during our program, we are limiting the number of participants to 15.
*Communication – Once registered, please check your spam/junk folders for important emails about this event.
*Consider your own situation and personal risk level before deciding to attend an in-person activity. If health issues put you or someone you live with at very high risk, please consider virtual activities instead. By registering for this event, you agree to:
-Perform a self-screen before leaving home on the event date
-Answer all screening questions, by Faith Connections and/or Black Creek Pioneer Village staff, when you arrive
-Use hand sanitizer when you arrive
-Follow all safety instructions, including wearing a mask, reading all floor signs and staying 2 meters apart from others, and anything else that Faith Connections and/or Black Creek Pioneer Village staff ask you to do.
-Please do not attend if you are feeling unwell. A ticket refund will be issues to anyone unable to participate due to illness.
By hosting this event, Faith Connections agrees to:
-Screen all staff and participants each time they participate in a Faith Connections program
-Have hand sanitizer available to use
-Ensure that all participants wear masks when indoors and stay 2 metres apart before, during and after the program
-Limit the number of participants and types of activities allowed
**This event is subject to last minute cancellation due to Public Health Advisories or changes in Black Creek Pioneer Village operations. Refunds will be issued in the event of a cancellation.**