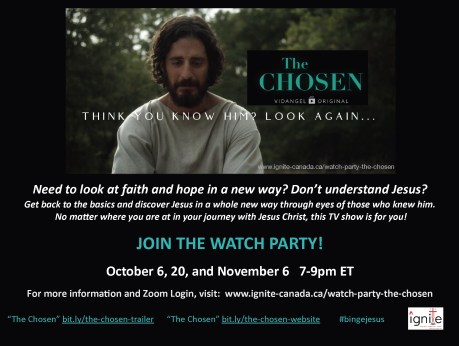 Chosen–Viewing Party–Episode 4
The Chosen is the first-ever-multi-season TV show about the life of Jesus.  Created outside of the Hollywood system, The Chosen allows us to see Him through the eyes of those who knew him.  No matter where you are at in your journey with Jesus Christ, this TV show is for you!
Ignite Young Adult Ministry invites you to a watch party over three evenings of the movie, "The Chosen" with viewing, reflection and discussion.  The scheduled watch parties will take place for episodes 1, 4, and 7.  In between the scheduled viewing parties, you are asked to watch episodes 2, 3 and 5, 6 at your leisure.
Watch Parties will take place on Zoom:  http://bit.ly/ignite-THE-CHOSEN
Schedule for the watch party for "The Chosen"
October 6 – Watch Party "The Chosen" – Episode 1  –  7pm EDT – 9pm EDT
In between viewing parties, watch Episode 2 and 3 at your leisure
October 20 – Watch Party "The Chosen" – Episode 4  –  7pm EDT – 9pm EDT
In between viewing parties, watch Episode 5 and 6 at your leisure
November 3 – Watch Party "The Chosen" – Episode 7 – 7pm EST – 9pm EST
This event is offered and facilitated by Ignite Young Adult Ministry Canada   www.ignite-canada.ca
"The Chosen" Movie Trailer:   bit.ly/the-chosen-trailer         #bingejesus
"The Chosen" Website:   bit.ly/the-chosen-website