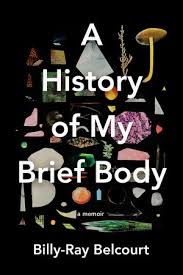 AIM Book Club Online
Gay, lesbian, bi, or trans? Join us for the next meeting of the AIM Book Club Online, offered while the challenging period we're living in continues.
This month we're discussing Billy-Ray Belcourt's A History of My Brief Body, a debut memoir that authentically relates the writer's heartfelt negotiations "with language, with sexuality, with race and colonial Canada, and with love and joy and a life in art" (Sheila Heti). Kirkus, in a starred review, says, "In sharp pieces infused with a yearning for decolonized love and freedom, Belcourt… ably balances poetic, philosophical, and political insights throughout this unique book… An urgently needed, unyielding book of theoretical and intimate strength."
Billy-Ray Belcourt is the youngest-ever winner of the Griffin Prize.
(You should have the novel read for the meeting, but of course you're welcome to join us even if you haven't!)
The event is being held via Zoom. (Basic help with joining a Zoom meeting is available through Zoom.)